Wildlife Alert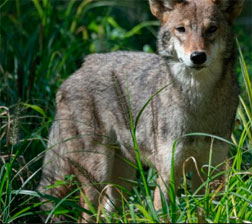 Dated: 1/20/2016
Coyotes have been spotted this week in the area of Bel Air Drive near the clubhouse and tennis court during the early morning hours.
When walking pets in the greenbelt areas, especially in the area noted, please be alert for wildlife.
2016 WCHOA Calendar of Events
ALL EVENTS ARE AT THE CLUBHOUSE AND FOR RESIDENTS OF WATTERS CROSSING

Easter Egg Hunt
Saturday, March 26
Volunteer Appreciation Night
Friday, April 8 (By Invitation Only)
Semi-Annual Homeowner's Meeting
Sunday, April 24
Pools Open
Saturday, April 30
Spring Yard Sale
Saturday, May 7
Spring Party
Saturday, May 14
Splash! 2016
Saturday, August 13 (At the Newport Drive Pool)
Fall Yard Sale
Saturday, September 24
Pools Close
Monday, October 3
Kid's Halloween Party
Sunday, October 23
Semi-Annual Homeowner's Meeting
Sunday, November 6
Holiday Social
Friday, December 2
Judging for Holiday Lights Award
Friday/Saturday, December 16 – 17

ADDITIONAL DATES TO REMEMBER:
• Watters Crossing HOA Board meets 3rd Monday of each month, except December
• Watters Crossing Architectural Control Committee meets last Tuesday of each month, except December
• Watters Crossing Playgroup meets every Friday

NOTE:
• All events, except SPLASH 2016! and the two Yard Sales, are located at the Clubhouse
• The Spring and Fall Yard Sales are the only Yard Sales when signs are permitted within Watters Crossing
• Signs for the Spting and Summer Yard Sales are HOA provided

Members Only Area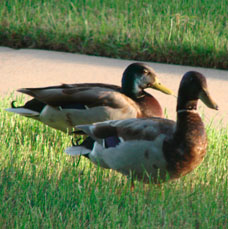 A feature has been added to the WCHOA web site. Homeowners can now access a secure portion of the web site that is for homeowners only.  Within that site are various links, including access to the Watters Crossing Neighborhood Directory. 
In the past, your HOA has published the Directory as a hard copy booklet every few years.  Locating this online will mean that it can always be up-to-date.  Currently, every homeowner's name and address is listed in the online Directory.  If you relocated to Watters Crossing within the past year, the previous owner for your address may be listed.  We urge each homeowner to access the Directory and, if they so choose, to personalize their listing / update with your name if you are a new homeowner.  What can be listed in the online Directory is the same as what was available in the hardcopy Directory.  We have had a number of requests for the new Directory, especially from new homeowners.
Click on "Members Only" link on upper right of Watters Crossing Homepage.
Complete sign-on.  Password is the same as one you received for Clubhouse Reservation, if you have done that in the past.  If you have never received a password, then request password.  This password does not change.
At the contents page, you can go to:
View Watters Crossing Directory

View Watters Crossing Homeowners by last name
View Watters Crossing Homeowners by street address

Update my W/C Directory Profile

Add family members and info as you wish
If you select "active", your info is visible to other homeowners.  If you select "inactive" your info is private and visible only to the HOA web administer
Remember to SAVE your changes

View Minutes of HOA Officer Meetings
View HOA Financial Statements
View Tennis Court Lock Code (note:  this code occasionally changes)
Please note:  Entering / updating your W/C profile does NOT sign you up for Watters Crossing HOA email distribution.  Remember to go to the homepage and the right sidebar and sign up for Watters Crossing email at  "Get WCHOA email"  With the exception of dues notices once per year, WCHOA is paperless.  All communications are via www.watterscrossing.com and email to the Watters Crossing distribution list.
On Street Parking in Watters Crossing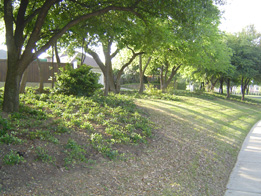 The Architectural Control Committee (ACC) frequently receives complaints concerning on-street parking. The fact of the matter is, on street parking is permitted within Watters Crossing. However, the complaints concerning on-street parking are not necessarily that there are cars parked on the street, but rather the manner in which these vehicles are parked. Complaints include the number of cars parked together, cars parked on both sides of the road; cars parked too close to stop signs. These situations cause visibility issues and there is a great concern for the children here. Please be considerate of your neighbors.
DO NOTE:

• We ask homeowners to be extremely sensitive to Bel Air Drive. It is the main feeder street within Watters Crossing and also the route of the hike and bike trail along most of its length. On it are the various playgrounds, tennis court, and clubhouse. We would ask homeowners to avoid parking on Bel Air Drive, especially overnight, due to the high vehicle traffic and number of pedestrians, including children and pets.

• No car can be parked in the street and covered as if in storage.

• RVs, boats, watercraft, and trailers, can never be stored on the streets within Watters Crossing nor parked there, except for loading and unloading.

• Garages must be maintained to allow for the parking of the number of vehicles inside for which they were designed. No boats, trailers or vehicles can be stored in the driveway in front of a garage door and prevent that bay from being used. Note that if anything is preventing a homeowner from parking two (or three per design) vehicles within their garage, it is a violation of the Declaration of Covenants, Conditions, and Restrictions of Watters Crossing.
Do You have areas where Grass won't Grow?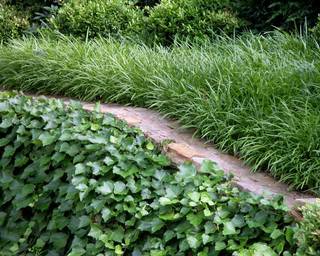 By NEIL SPERRY
neilsperry.com

"Compared to shade trees and shrubs, ground covers are relative newcomers to North Texas landscaping. Many of us can remember when English ivy and trailing vinca were the only two turfgrass replacements you'd see in our gardens. That was partly because we hadn't been exposed to the concept, and it was partly because good forms of edging hadn't come into the marketplace"... (Read More)
By HOWARD GARRETT
dallasnews.com
"The truth about growing grass in the shade is this: You can't. Trees want full sun and grasses want full sun. Trees win. Thinning the trees helps a little, for a while, but not long term; foliage grows back. Removing trees will work, but that's usually not the best thing to do. "... (Read More)
ACC is Energy/Water Usage Sensitive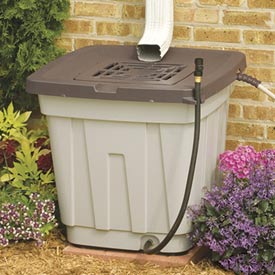 Some comments, questions, on new items presented to the ACC for Watters Crossing within the past year:
YES!
The ACC accepts rain barrel installations.  The prefered location is within the rear, fenced in yard locations.  These will be accepted on the sides of properties when completely concealed by a six (6) foot to eight (8) foot tall, solid fence panel.  The width of the panel is determined as needed for concealment.
YES!
The ACC accepts solar roof panels.  Indeed, the third home, located in Phase III, was recently approved for installation.  Panels will be mounted on rear, or in some cases, side roofs.
YES!
The ACC accepts plans for yard renovations / reconstructions using drought tolerant, low water usage plants, ground covers and more.
As with all exterior improvements, any of the above must be submitted to the ACC for review and approval proior to any construction commencing.  Project submissions now are easy using the online forms and most projects are expedited within the committee via email.  Project forms provide the ability to upload photos, plats, and other supporting documents.
The ACC thanks you for working within the Review Guidelines of Watters Crossing.
Local Weather
Get WCHOA Email !
WCHOA broadcasts, via E-mail, newsletters, important bulletins, events, and developments that may affect our community. This is the fastest way to disseminate information throughout our neighborhood.
Any information you provide remains confidential and undistributed.
Sign up for WCHOA email

WCHOA Volunteers
Tool Time Leader
Tool Time Volunteers
Sanitation Engineer
Please visit the Volunteer Page for more details about these positions.
WCHOA Crime Watch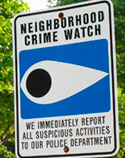 To report suspicious, non-life threatening activity, please phone the City of Allen Non-Emergency number at 214-509-4321
Also, please visit the link below for further information:
City of Allen Police Community Relations
To ask a question concerning recent illegal activity within Watters Crossing, or to inquire regarding any rumors which you may have heard, please email crimewatch@watterscrossing.com. Your letter will go to the Watters Crossing Crime Watch Leader, who, in consultation with the City of Allen Police, will determine if the community should be alerted via the Watters Crossing web site and Watters Crossing email.
Crime Watch Tips
Make sure doors and windows are locked.
Make sure shades or window covers are closed when leaving the house.
Make sure alarm systems are set, operating properly and monitored.
Close garage door when you are out of the garage.
Make sure vehicles are locked when vacant
Do not leave valuables of any type in vehicles
Know your neighbor and look out for each other in a helpful way.
Tennic Court Access
The code for the tennis court gate is located in the Members Only portion of the website
Did You Know?
Boats, trailers, and RVs are not permitted to be parked on the streets within Watters Crossing at any time unless actively loading or unloading.  They are never permitted overnight.

Questions or Problems?
Information for questions or problems for Watters Crossing Residents Click Here

Save Your Pool Cards
Please remember to retain your Pool Access Cards  for future use..  Pool cards will NOT be reissued.  The cost of a replacement card is $25 and is limited to one card per address.  For replacement cards, please email: poolaccess@watterscrossing.com