Critical Volunteer Position Open
Your current Treasurer, Dan Hall, has sold his home and is leaving Watters Crossing. Dan has done an outstanding job on the Board during his time as Treasurer and will be sorely missed. The WCHOA Board is looking for a volunteer to step up and fill this critical position.
Watters Crossing HOA Treasurer:
Oversees financials / accountable to Board and Community
Issues certificates for home sales
Liason with homeowners on various financial questions
Liasons with Architectural Control Committee on various disputes
Liasons with attorneys as needed
Prepares reports for Monthly Meetings
Prepares reports for Semiannual Homeowners Meetings
If you would like to know more about this position and how you could help your community, please email Mary Kuykendall, secretary@watterscrossing.com
Annual Norton Neighborhood 4th of July Parade
Bring the kids, your pets and take part in the Norton Neighborhood 4th of July parade.

DATE: Saturday, July 1
TIME: 9:00 AM
STARTING POINT: Norton Elementary
Snacks, Kona Ice Truck, Inflatables, and more. To see the parade route and all information, please Click Here
For further infoamtion please contact Kelly McCawley, playgroup@watterscrossing.com
First Friday Films At the Clubhouse Pool
A new movie is shown the First Friday of every month during pool season. Bring your cooler (no glass please) and come to the Clubhouse Pool for swimming and a movie. Movies start at approximately 8:30 PM. Click Here for the 2017 Movie Schedule
Satellite Dish Installations Requiring ACC Review
Satellite dishes are popping up in Watters Crossing, many having not been reviewed and currently in violation of the Covenants. If you have a recently installed dish or a dish installed on a side roof, please read further information Click Here
A BIG Thanks to Spring Party 2017 Volunteers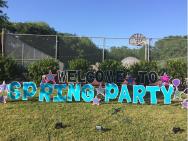 The Watters Crossing Spring Party 2017 was a huge success. This is possible due to the many volunteers who helped plan, set-up, and work during the party, and clean up. We want to give a big THANKS to all those volunteers here for helping to make Watters Crossing a great neighborhood and a fun place to live.
Steven Kerrigan
Marty Wigder
Len Catanach
Pam Catanach
Ed Bryan
Christina Mackey
Brian Mackey
Joyce Paul
Ed Goodwin
Sharon Wigder
Melanie Coker
Lauren Kerrigan
Mike Shisko
Michelle Massi
Justin Wallraven
Neil D'Cunha
Dan Hall
Tuan Bui
Patsy Goodwin
Trent Armstrong
Brian Bull
Payton Graumann
Jodi Cooley
Rebecca Herbig
Kaitlyn Kerrigan
Marge Bryan
James Coker
Steve Sekula
Monica Bull
Mandee Markee
Pete March
Jack Tambert
Darren Bortel
Kyle Markee
Larry Ciske
Leroy Foster
Beatriz Meade
Elizabeth Jones
Kayla Welch
Ramon Meade
Michelle Goclano
Don Hill
Abida Minhas
Marie Hill
Kaitlin Kerrigan
Doug Goclano
Rocky Carpenter
Alex Bull
Mary Kuykendall
Dave Tanner
Scott Welch
Kim Carpenter
Jack Wills
Les Nichols
Cherie Nichols
Katie Armstrong
Carol Welch
A BIG THANKS TO:
Don Hill for repairing / replacing exterior electrical outlets that always seem to be broken right before the party.
Bill and Tracey Walls for donating wine.
Christina Mackey, and sons Connor and Ethan, for volunteering three hours in a hot clubhouse baking pretzels for the party.
Lauren Kerrigan for working with the food truck reps months prior to the party so we had great food.
Pete March for delivering pop, water, and kids drinks.
Pete March and Doug Goclano for delivering five kegs of beer.
Justin Wallraven and Trent Armstrong for a truly outstanding party video.
Remember that Watters Crossing is a completely self-managed HOA. There is no management firm involved in your HOA. Volunteers are always needed and if you wish to volunteer, please contact secretary@watterscossing.com or acc@watterscrossing.com
Watters Crossing Spring Party 2017 Sponsor Support
We want to thank our many sponsors of Spring Party 2017. Thanks for your continued support of our community!
Manders Maintenance
www.mandersmaintenance.com
Manders Maintenance has been caring for Watters Crossing common areas for over 20 years. They also work with homeowners within Watters Crossing for private installations.

Plano Tree Care
469-628-3431
Plano Tree Care has been trimming and removing dead / fallen trees in Watters Crossing for years. Contact Aaron Benzene for private tree trimming / pruning.

Duck Fence
www.duckfence.com
The owners of Duck Fence have lived in Watters Crossing for years. Duck has installed many private fences in Watters Crossing and maintains our perimeter fences.

Bounce For Fun
www.bounceforfun.com
Bounce For Fun is the provider of inflatables and much of the entertainment for the Spring Party. Contact Ed or Millie for your party needs.

Triumph Roofing
www.triumphroofing.com
The crew of Brad Sanders at Triumph Roofing installed our most recent roofs on the Clubhouse and pool cabanas,

Nine Band Brewery
972-663-5709
If you attended the Spring Party, you may have sampled some of the Nine Band brews that were donated for our event. Nine Band Brewery, located in Allen, conducts regular tours of the brewery.

Amstel Plumbing
www.amstelplumbing.com
Speak with Scott at Amstel Plumbing for your plumbing needs.

Environment Control
www.environmentcontrol.com
Our clean restrooms at both pools and Clubhouse cleaning is provided by Environment Control.

Caraway Concrete
www.carawayconcrete.com
Steve Caraway completed the major renovation of the clubhouse pool in 2014 and the partial deck rebuild at the Phase iI Pool in 2015.

Burns Pool Service
214-929-7665
Robert Burns tends to both Watters Crossing pools on a daily basis.
Drivers on Bel Air Drive:Slow Down!
The WCHOA continues to receive complaints of speeding on Bel Air Drive. In some instances, specific cars and addresses have been indentified. We urge any homeowner who witnesses a speeding incident, running a stop sign, etc to call the City of Allen Police non-emergency number, 214-509-4321

The HOA has communicated on several occasions with the City regarding this issue. Most recently, the mobile speed limit sign was located at the southern end of Bel Air Drive. Also in that area, a survey was conducted of the speeds of all vehicles.

We would remind all that Bel Air Drive is not a highway, but a residential street with a 30 MPH speed limit. Traveling the length of Bel Air Drive will take you thru two stop signs, one traffic signal, one city park, two private parks, two school zones and the Clubhouse. Along most of the length of Bel Air Drive is the hike and bike trail used by pedestrians, many with dogs and / or children, and bikers.

We have a great neighborhood. Let's remember all the others that are using Bel Air Drive, many on foot, and slow down. Bel Air Drive is a residential street, not a highway.
Tool Time Volunteers Needed
The lead for Tool Time was recently taken over by Steven Kerrigan. Steven replaces Don Hill who has been a volunteer for Watters Crossing for years, most recently as Tool Time Leader. A BIG THANKS to Don for all his help in the past and for continueing to volunteer. Steven is looking for a few volunteers for his Tool Time Team. Volunteers are needed for minor repairs and projects throughout Watters Crossing. If you can donate a few hours here and there, please email Steven at tooltime@watterscrossing.com
Volunteers at Work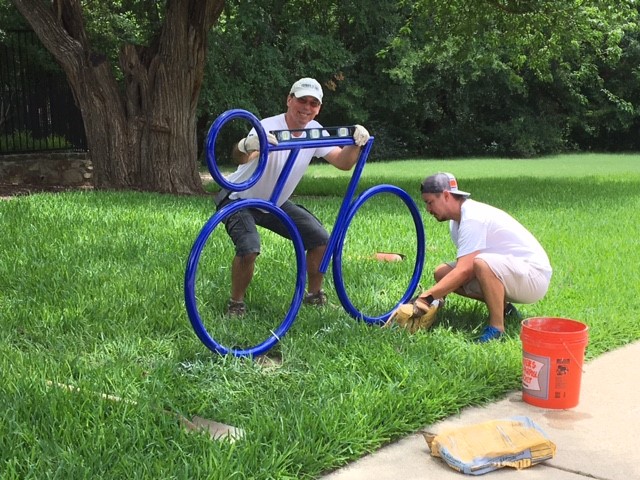 Tooltime recently installed three new bike racks in Watters Crossing. Tooltime Lead Steven Kerrigan is a shown at work with Tooltime Volunteer David Tanner. A fourth rack will be added shortly. At that time, grass will be removed in these areas and a decomposed granite base installed.
Community Pool Announcements
Please be reminded that the Watters Crossing pools and property are your amenities, maintained with your dues. Any abuse of pool property will be assessed to the responsible homeowner. Also note that no one under the age of 13 is permitted within the pool area without an adult guardian with them. We ask that you NOT open the gate for anyone who says their pool card doesn't work or they forgot it. Pool cards are deactivated for various HOA reasons. The complete listing of Pool Rules can be viewed HERE
Mark Your Calendar for Splash! 2017
Mark your calendar now for our upcoming pool party, Splash! 2017 on Saturday, August 5. This is the third year for this event and turnout has been just great. Included with this year's event will be a showing of the movie Monsters, Inc. More details to come.
Girl Scouts Present
Watters Crossing HOA with Community Award
The WCHOA Board was the proud recipient of the Community Award for the continual support of Watters Crossing. Girls shown in the photo: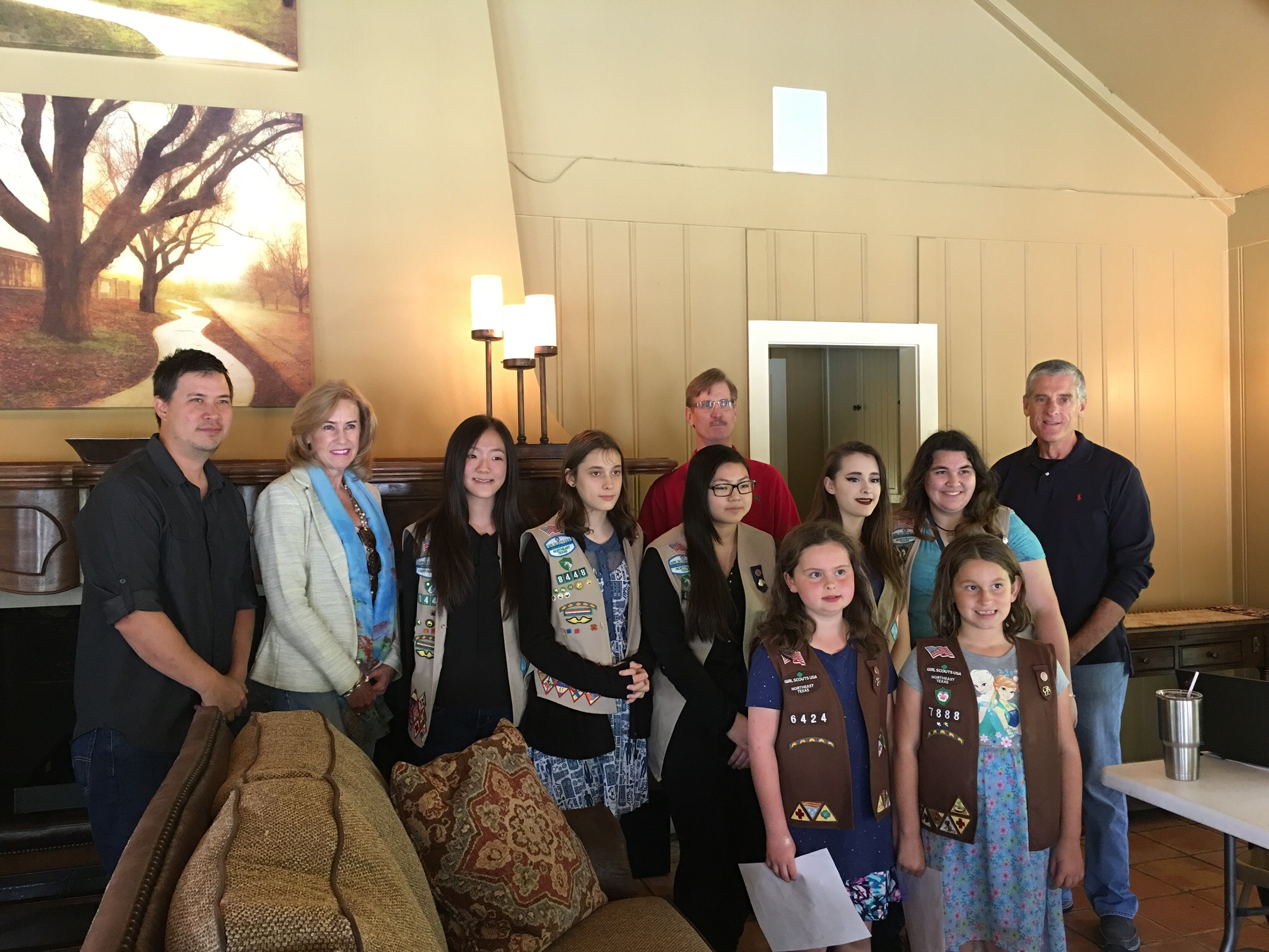 Back row: L-R: Board President Steven Kerrigan, Board Secretary Mary Kuykendall, Mia,
Alana, Kalalani, Board Vice President Mike Shisko, Sophia, Ariel, Board Treasurer Dan Hall
Front row: L-R: Allison, Kasey
New Addition To Phase III Park!
Watters Crossing now has a Ga Ga Ball Pit. Located at the Phase III Playground on Bel Air Drive, the project was just completed in March and has kids in it most afternoons, after school. The Pit is the Eagle Scout Project of Zachary Lozuk. Zachary planned the project, presented it to the Board of Watters Crossing, raised funds for its construction, and then completed the project. The Board of Watters Crossing would like to thank him for this significant contribution to the community.
Neighbors United Against Widening of Alma Drive
Representing Watters Crossing in the Neighbors United drive is Steve Jones. Further information on this campaign can be viewed HERE. Further questions can be directed to neighborsunitedinfo@watterscrossing.com
Pair of Bills in the State Legislature SB451/HB2551
These bills have the potential to substantially affect Texas neighborhoods.
These bills (text here ) currently in the Texas State Legislature, essentially eliminate the ability of cities to regulate short-term rental properties across Texas. Practically speaking, what often happens is that investors (sometimes from out of state) will buy a home in a Texas neighborhood and rent out that property on STR sites like AirBNB and VRBO for several thousand dollars each weekend to bachelor parties, family reunions, or corporate events. These short-term rentals are operated as de facto hotels in the middle of neighborhoods, and can substantially reduce the enjoyment and value of neighboring property. Frequent problems include loud music at all hours, public intoxication, large amounts of trash, police responses in the middle of the night, drug use, and occasional violence.
This is an issue that is becoming more frequent in Texas neighborhoods, and has been covered extensively in the media (see recent article in Fort Worth Star-Telegram).
We urge you to contact your state senator, Van Taylor, as well as Rep. Jeff Leach (member of the House Urban Affairs Committee, where HB2551 will be heard) to ask them to oppose the bill.
Additional information on background is located HERE.
2017 EVENTS FOR RESIDENTS OF WATTERS CROSSING

Volunteer Appreciation Night
Friday, March 31 By Invitation only: Active Volunteers Only
Easter Egg Hunt
Saturday, April 15
Easter Sunday
Sunday, April 16
Pools Open
Monday, May 1
Semi-Annual Homeowner's Meeting
Sunday, April 30
Spring Yard Sale
Saturday, May 6
Spring Party
Saturday, May 13
Mothers Day
Sunday, May 14
Fathers' Day
Sunday, June 18
SPLASH! 2017
Saturday, August 5
Fall Yard Sale
Saturday, September 23
Pools Close
Sunday, October 1
Halloween Party
Sunday, October 29
Semi-Annual Homeowner's Meeting
Sunday, November 5
Holiday Social
Friday, December 1
Judging for Holiday Lights Award
Week of December 11

WCHOA Board Meets 3rd Monday of every month.
ACC meets last Tuesday of every month.
WCHOA Playgroup meets every Friday.
Local Weather
Get WCHOA Email !
WCHOA broadcasts, via E-mail, newsletters, important bulletins, events, and developments that may affect our community. This is the fastest way to disseminate information throughout our neighborhood.
Any information you provide remains confidential and undistributed.
Sign up for WCHOA email
Upcoming Events

Kid's Halloween Party October 23rd
Semiannual Homeowners Meeting November 6th
WCHOA Crime Watch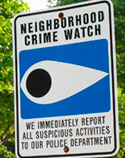 To report suspicious, non-life threatening activity, please phone the City of Allen Non-Emergency number at 214-509-4321
Also, please visit the link below for further information:
City of Allen Police Community Relations
To ask a question concerning recent illegal activity within Watters Crossing, or to inquire regarding any rumors which you may have heard, please email crimewatch@watterscrossing.com. Your letter will go to the Watters Crossing Crime Watch Leader, who, in consultation with the City of Allen Police, will determine if the community should be alerted via the Watters Crossing web site and Watters Crossing email.
Crime Watch Tips
Make sure doors and windows are locked.
Make sure shades or window covers are closed when leaving the house.
Make sure alarm systems are set, operating properly and monitored.
Close garage door when you are out of the garage.
Make sure vehicles are locked when vacant
Do not leave valuables of any type in vehicles
Know your neighbor and look out for each other in a helpful way.
Report a Streetlight Problem
Streetlights in Watters Crossing are not maintained by your Homeowners Association. They belong to, and are maintained, by Oncor Electric. Problems, including lamps not working, can be reported online at
www.oncor.com Phone calls can also be placed to.

WCHOA Volunteers
Yard Sale Leader
Tool Time Volunteers
Please visit the Volunteer Page for more details about these positions.
Tennis Court Access
The code for the tennis court gate is located in the Members Only portion of the website
Did You Know?
Trash and Recycle Polycarts must be removed the night of trash pick-up day to an area not visible to any street. Additional information is HERE.
Questions or Problems?
Information for questions or problems for Watters Crossing Residents Click Here
Save Your Pool Cards
Please remember to retain your Pool Access Cards for future use.. Pool cards will NOT be reissued. The cost of a replacement card is $25 and is limited to one card per address. For replacement cards, please email: poolaccess@watterscrossing.com