Flag Installation Fundraiser by
The Kiwanis Club of Allen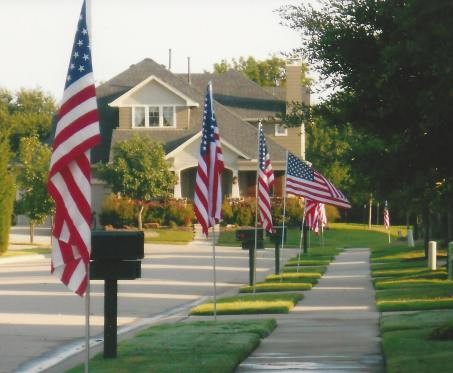 Display your American pride during each national holiday with an American Flag placed in your yard. Kiwanis provide the flag, set it up and take it down.

This is an opportunity to honor our country and support our Armed Forces with a beautiful American Flag in your yard for seven (7) flag holidays a year. When you sign up, Kiwanis will install a plastic sleeve flush with the ground near the curb in the front yard to accommodate a pole mounted 3' X 5' flag.

Flags are installed for these holidays and picked up the following day: Presidents Day, Memorial Day, Flag Day, Independence Day, Labor Day, Patriot Day, and Veterans Day

For further information, CLICK HERE.
Architectural Control Committee
Welcomes New Members and Conducts Reviews for 2018
The Architectural Control Committee (ACC) is pleased to welcome for 2018 new members Joe Eberle, 312 Solano Drive, Joe Smith, 105 Tustin Court and Aubrey Moore, 1126 Bel Air Drive. Potential ACC members are interviewed and appointed by your HOA Board. The ACC now has a full complement of six members representing all three Phases of Watters Crossing. We want to thank these new members for stepping up to volunteer and help within their community. To see the full list of ACC members and other ACC information, please click on the ACC tab above.
The ACC has annually conducted a survey of all addresses within Watters Crossing on fence condition. Fences are to be kept in well-maintained state and stained in one, approved color. Expanding on this annual survey for 2018, we have added these areas of concentration:
Landscape maintenance including continuous evergreen landscaping along front foundations


Upkeep of tree rings and planter borders


Leaning mailboxes


Concealment from street view of HVAC units. Homeowners with HVAC units which are not 100% concealed from street view will be asked to conceal with an ACC approved fence panel


While the vast majority of homes in our community meet or exceed these requirements there are others that need attention. By notifying these homeowners at the onset of the spring growing season hopefully we can work together to eliminate any outstanding issues.
The ACC again thanks all homeowners for working to maintain the standards of our community.
Crime Watch Alert For Watters Crossing
A homeowner within Watters Crossing was a recent victim of a break-in. This was a mid-day break-in, while no one was home and many valuables were taken. Some tips for homeowners:
The majority of thieves go after easy targets, especially homes with unlocked doors and open windows.


Alarm systems are one of the best things you can have. Even just having a sign advertising you have a security system will deter intruders.


Thieves also target open garages, so keep your garage door closed. Be sure to lock your entry door from the garage.


Install automatic timers on lights and radios. Lock your side gates, and install deadbolts on exterior and French doors.


Lock your cash, jewelry and other valuables in a fireproof safe, ideally one bolted to the floor. The safe will also save your belongings in the event of a fire. Keep photographic evidence of your furnishings, and record serial numbers of any expensive electronics.


If you hear a burglar inside your home, stay away. Use a cellphone or go to your neighbors and call the police. You don't want to come across a potential armed or violent intruder. If you're inside and you can't get out, lock the door of the room you're in and call 911.


When you're out of town, inform the postal service and / or your neighbors so you won't have papers or mail piling up.


Never open the door to strangers or let them know you are alone. If you don't already have one, install and use a peephole in your front door. Ask for identification from strangers. Don't share phone information.


Report suspicious activity to the City Of Allen Police Non-emergency number: 214-509-4321


Signs Within Our Neighborhood
Political Signs
With a primary election scheduled for March 6, 2018, political signs are popping up in Watters Crossing. Size and types of signs permitted are outlined in the Texas Property Code. These cannot be installed more than 90 days prior to the election date and must be removed within ten days of the election date.

Realtor Signs
A home is permitted one (1) For Sale sign no larger than five square feet. Realtor guidance on signing is shown in the Realtor link at www.watterscrossing.com Realtor signs and open house signs installed in the entrance monuments will be removed.

Yard Sale Signs
Signs for yard sales, yards, sales, etc. are never permitted within Watters Crossing. We urge homeowners to participate in one or more of the two annual Community Wide Yard Sales which your HOA schedules each year. In 2018, these sales are Saturday, May 5 and Saturday, September 22. All yard sale signs installed at other times will be removed.

Contractor Signs
Signs for all contractors, trades, etc, are never permitted within Watters Crossing and will be removed.
Tree Trimming
We urge all residents to ensure that any contractor they are hiring for tree trimming is reputable and knowledgeable in their trade. We continue to see trees that have been trimmed in a less than professional manner. Professionals:

Will not leave stubs and stumps on a tree
Will not "top" a tree
Will not leave all limbs and debris for you to remove from the property

Be wary of anyone stopping at your door who "happens to be in the neighborhood" and will trim your trees for a reduced rate. Be especially concerned if a contractor's intent is to leave limbs in your alley. The City will generally not remove these unless they are cut to specific sizes and bundled.

We also remind all homeowners that all trees within Watters Crossing are improvements to the property, and the neighborhood in general. Indeed, realtors continue to tell us that potential homebuyers always comment on the tree canopy within Watters Crossing and how desirable it is. Any proposed tree removal is to be submitted for review by the Architectural Control Committee for compliance with the Declaration of Covenants, Conditions, and Restrictions. There are a number of areas within our neighborhood with specific requirements concerning trees, hence the necessary review.

Read more
Mulch Sales and Delivery Provides Funds for Scouts
It is that time of year again, and the High Adventure scouts from Troop 1299 are selling mulch to support the 2018 trip to Philmont Scout Ranch. With earnings from previous fundraisers, crews had a fantastic time at the 2017 trip to Florida National High Adventure Sea Base with scouts learning how to manage a boat and catch/clean/cook many different types of fish.
Scouts will sell and deliver three different kinds of packaged in 2 cubic foot bags. Proceeds from these sales go directly to scout accounts and are used to pay for High Adventure trip costs. Mulch deliveries will be Saturday, March 3, 2018. Click HERE for the 2018 fundraising form.
For further information, and where to email your completed form, please email:
Jason Dlugosch
jason@dlugosch-family.com.
Is Your Sidewalk in Need of Repairs?
The ACC has received inquiries concerning sidewalk repairs. Sidewalk repair is generally a shared opportunity between the individual homeowner and the City of Allen:
The sidewalk in front (or on the side) of your house parallel to the street is the responsibility of the homeowner with the City of Allen shairing the repair. Repair is shared 50 / 50.
The sidewalk from the above sidewalk to your front door is the homeowner's responsibility. Repair is 100% homeowner.

The Sidewalk Repair Program is outlined at www.cityofallen.org We urge all homeowners who may have tripping hazards in front of their homes to pursue the Sidewalk Repair Program with the City.
Satellite Dish Installations Requiring ACC Review
Satellite dishes are popping up in Watters Crossing, many having not been reviewed and currently in violation of the Covenants. If you have a recently installed dish or a dish installed on a side roof, please read further information Click Here
Drivers on Bel Air Drive:Slow Down!
The WCHOA continues to receive complaints of speeding on Bel Air Drive. In some instances, specific cars and addresses have been indentified. We urge any homeowner who witnesses a speeding incident, running a stop sign, etc to call the City of Allen Police non-emergency number, 214-509-4321

The HOA has communicated on several occasions with the City regarding this issue. Most recently, the mobile speed limit sign was located at the southern end of Bel Air Drive. Also in that area, a survey was conducted of the speeds of all vehicles.

We would remind all that Bel Air Drive is not a highway, but a residential street with a 30 MPH speed limit. Traveling the length of Bel Air Drive will take you thru two stop signs, one traffic signal, one city park, two private parks, two school zones and the Clubhouse. Along most of the length of Bel Air Drive is the hike and bike trail used by pedestrians, many with dogs and / or children, and bikers.

We have a great neighborhood. Let's remember all the others that are using Bel Air Drive, many on foot, and slow down. Bel Air Drive is a residential street, not a highway.
Tool Time Volunteers Needed
The lead for Tool Time was recently taken over by Steven Kerrigan. Steven replaces Don Hill who has been a volunteer for Watters Crossing for years, most recently as Tool Time Leader. A BIG THANKS to Don for all his help in the past and for continueing to volunteer. Steven is looking for a few volunteers for his Tool Time Team. Volunteers are needed for minor repairs and projects throughout Watters Crossing. If you can donate a few hours here and there, please email Steven at tooltime@watterscrossing.com
Volunteers at Work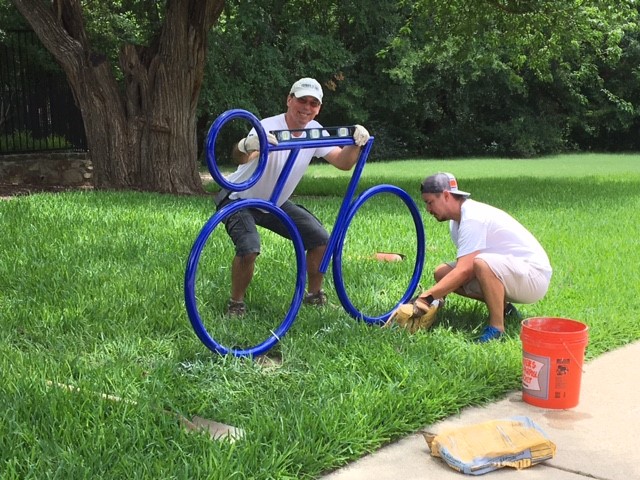 Tooltime recently installed three new bike racks in Watters Crossing. Tooltime Lead Steven Kerrigan is a shown at work with Tooltime Volunteer David Tanner. A fourth rack will be added shortly. At that time, grass will be removed in these areas and a decomposed granite base installed.
Neighbors United Against Widening of Alma Drive
Representing Watters Crossing in the Neighbors United drive is Steve Jones. Further information on this campaign can be viewed HERE. Further questions can be directed to neighborsunitedinfo@watterscrossing.com
2018 EVENTS FOR RESIDENTS OF WATTERS CROSSING

Easter Egg Hunt
Saturday, March 31
Easter Sunday
Sunday, April 1
Volunteer Appreciation Night
Friday, April 6th
Pools Open
Tuesday, May 1
Spring Yard Sale
Saturday, May 5
Semi-Annual Homeowner's Meeting
Sunday, May 6
Spring Party
Saturday, May 12
Mothers Day
Sunday, May 13
Fathers' Day
Sunday, June 17
SPLASH! 2018
Saturday, August 11
Fall Yard Sale
Saturday, September 22
Pools Close
Sunday, October 1
Halloween Party
Sunday, October 28
Semi-Annual Homeowner's Meeting
Sunday, November 4
Holiday Social
Friday, November 30
Judging for Holiday Lights Award
Week of December 16

WCHOA Board Meets 3rd Monday of every month.
ACC meets last Tuesday of every month.
WCHOA Playgroup meets every Friday.
Local Weather
Get WCHOA Email !
WCHOA broadcasts, via E-mail, newsletters, important bulletins, events, and developments that may affect our community. This is the fastest way to disseminate information throughout our neighborhood.
Any information you provide remains confidential and undistributed.
Sign up for WCHOA email
Upcoming Events

Kid's Halloween Party October 29th

Semiannual Homeowners Meeting November 5th
Holiday Social, December 1st
WCHOA Crime Watch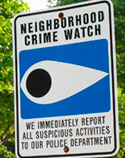 To report suspicious, non-life threatening activity, please phone the City of Allen Non-Emergency number at 214-509-4321
Also, please visit the link below for further information:
City of Allen Police Community Relations
To ask a question concerning recent illegal activity within Watters Crossing, or to inquire regarding any rumors which you may have heard, please email crimewatch@watterscrossing.com. Your letter will go to the Watters Crossing Crime Watch Leader, who, in consultation with the City of Allen Police, will determine if the community should be alerted via the Watters Crossing web site and Watters Crossing email.
Crime Watch Tips
Make sure doors and windows are locked.
Make sure shades or window covers are closed when leaving the house.
Make sure alarm systems are set, operating properly and monitored.
Close garage door when you are out of the garage.
Make sure vehicles are locked when vacant
Do not leave valuables of any type in vehicles
Know your neighbor and look out for each other in a helpful way.
Report a Streetlight Problem
Streetlights in Watters Crossing are not maintained by your Homeowners Association. They belong to, and are maintained, by Oncor Electric. Problems, including lamps not working, can be reported online at
www.oncor.com Phone calls can also be placed to.

WCHOA Volunteers
ACC Members
Tool Time Volunteers
Please visit the Volunteer Page for more details about these positions.
Tennis Court Access
The code for the tennis court gate is located in the Members Only portion of the website
Did You Know?
Trash and Recycle Polycarts must be removed the night of trash pick-up day to an area not visible to any street. Additional information is HERE.
Questions or Problems?
Information for questions or problems for Watters Crossing Residents Click Here
Save Your Pool Cards
Please remember to retain your Pool Access Cards for future use.. Pool cards will NOT be reissued. The cost of a replacement card is $25 and is limited to one card per address. For replacement cards, please email: poolaccess@watterscrossing.com