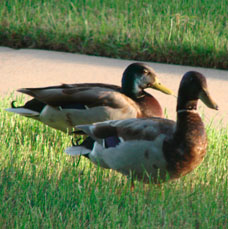 Homeowners can now access a secure portion of the web site that is for homeowners only.  Within that site are various links, including access to the Watters Crossing Neighborhood Directory. 
In the past, your HOA has published the Directory as a hard copy booklet every few years.  Locating this online will mean that it can always be up-to-date.  Currently, every homeowner's name and address is listed in the online Directory.  If you relocated to Watters Crossing within the past year, the previous owner for your address may be listed.  We urge each homeowner to access the Directory and, if they so choose, to personalize their listing / update with your name if you are a new homeowner.  What can be listed in the online Directory is the same as what was available in the hardcopy Directory.  We have had a number of requests for the new Directory, especially from new homeowners.
Click on "Members Only" link on upper right of Watters Crossing Home Page.
Complete sign-on.  Password is the same as one you received for Clubhouse Reservation, if you have done that in the past.  If you have never received a password, then request password.  This password does not change.
At the contents page, you can go to:
View Watters Crossing Directory

View Watters Crossing Homeowners by last name
View Watters Crossing Homeowners by street address

Update my W/C Directory Profile

Add family members and info as you wish
If you select "active", your info is visible to other homeowners.  If you select "inactive" your info is private and visible only to the HOA web administer
Remember to SAVE your changes

View Minutes of HOA Officer Meetings
View HOA Financial Statements
View Tennis Court Lock Code (note:  this code occasionally changes)
Please note:  Entering / updating your W/C profile does NOT sign you up for Watters Crossing HOA email distribution.  Remember to go to the homepage and the right sidebar and sign up for Watters Crossing email at  "Get WCHOA email"  With the exception of dues notices once per year, WCHOA is paperless.  All communications are via www.watterscrossing.com and email to the Watters Crossing distribution list.