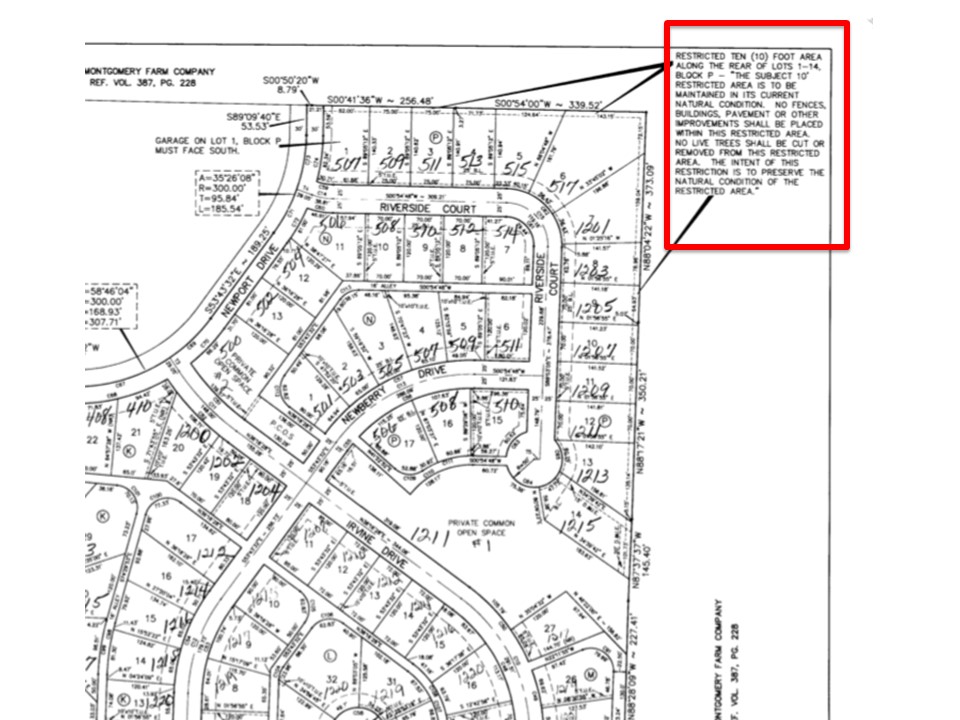 Rear Property Easements

507, 509, 511, 513, 515, 517, 1201, 1203, 1205, 1207, 1209, 1211, 1213, 1215
Riverside Court Homeowners
There is no WCHOA Private Common Open Space nor any land in the rear of your property that is maintained by the WCHOA. However, there is an easement which we will outline below.
As shown on the included plat, there are 14 properties governed by a restrictive easement at the rear of each lot. The language of that easement is below and on the attached plat:
"Restricted ten (10) foot area along the rear of lots 1-14, Block P – The subject 10' restricted area is to be maintained in its current natural condition. No fences, buildings, pavement, or other improvements shall be placed within this restricted area. No live trees shall be cut or removed from this restricted area. The intent of this restriction is to preserve the natural condition of the restricted area."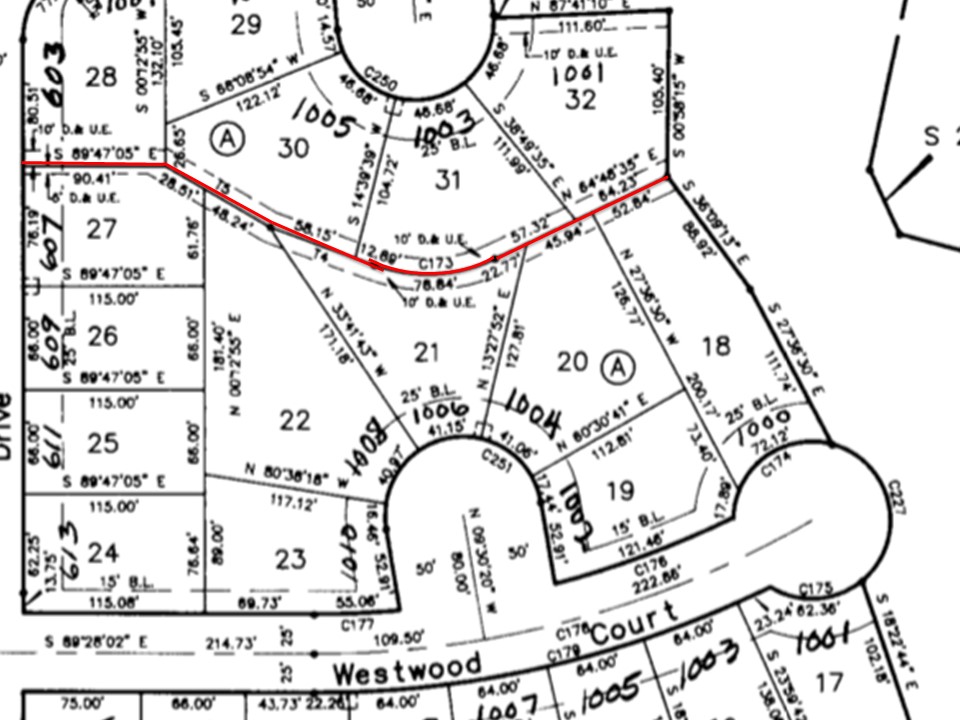 While these properties go to the rear property line, live trees cannot be removed nor can anything be built on the last ten feet of the property. The ten foot section then continues on the opposite side of the property line which is shared with either Montgomery Farm or the individual homeowner in back of you. Specific details on this can be found at www.collincad.org in the interactive map link.
To summarize, the wooded area in the rear of these property is a protected easement, intended to remain in its natural condition. The area is not part of the Watters Crossing Private Common Open Space and the HOA does not maintain the area. The protected area is owned by the individual homeowner of the lots called out and are under the restrictions noted.
EXCEPTION: 1215 Riverside Court is included in the protected easement, BUT does have WCHOA Private Common Open Space owned and maintained by WCHOA on the side adjacent to the pond.

Bel Air Drive Homeowners & Westwood Court Homeowners


607, 603, 1009, 1007, 1005, 1003, 1001 Bel Air Drive Homeowners

1000, 1002, 1004, 1006, 1008 Westwood Court Homeowners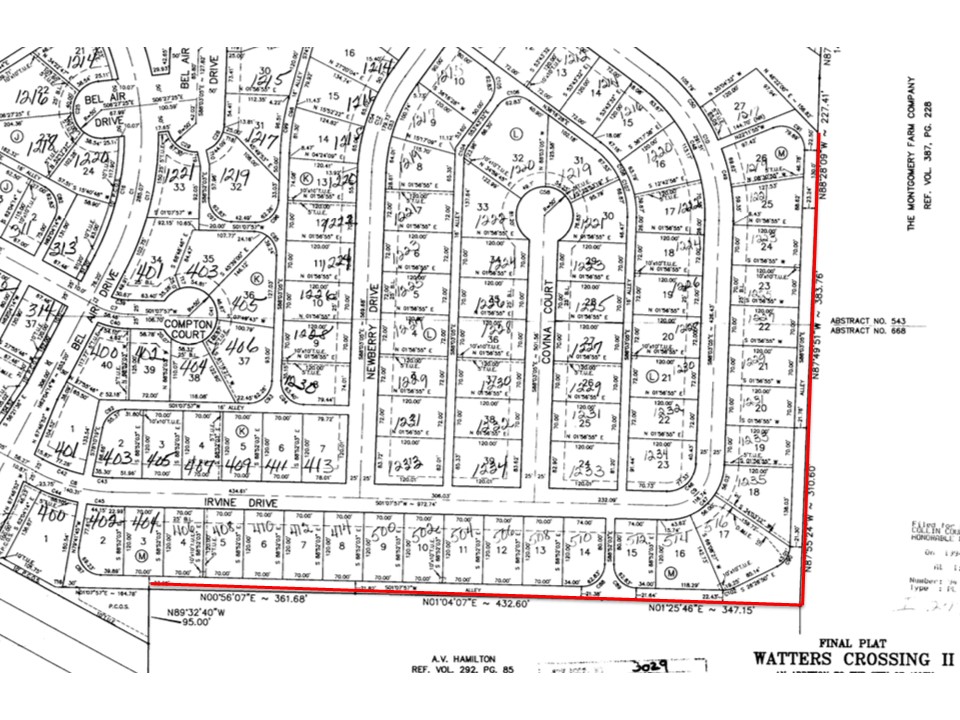 The above properties are effected by a Drainage and Utility Easement in the rear of each property. As the attached plat illustrates, each property listed above shares a common property line with one, or more, of the other property owners listed above. Ten feet on each side of that propery line is the Drainage and Utility Easement. There is no WCHOA Private Common Open Space in this area. As such, there is no WCHOA maintained area. Removing fallen trees and keeping the drainage easement open is the responsibility of the individual homeowner(s).
Rear Property Treelines

Irvine Drive Homeowners

406, 408, 410, 412, 414, 500, 502, 504, 506,508, 510, 512, 514, 516 Irvine Drive Homeowners

1235, 1233, 1231, 1229, 1227, 1225, 1223, 1221, 1219 Irvine Drive Homeowners

There is no Watters Crossing HOA Private Common Open Space nor any land in the rear of the above properties that is maintained by the WCHOA. The trees within the treeline are part of the Connemera Crossing HOA Open Space. Fallen trees and/ or any resulting damage should be referred to the Connemera Crossing HOA. Further details can be obtained in the interactive maps at www.collincad.org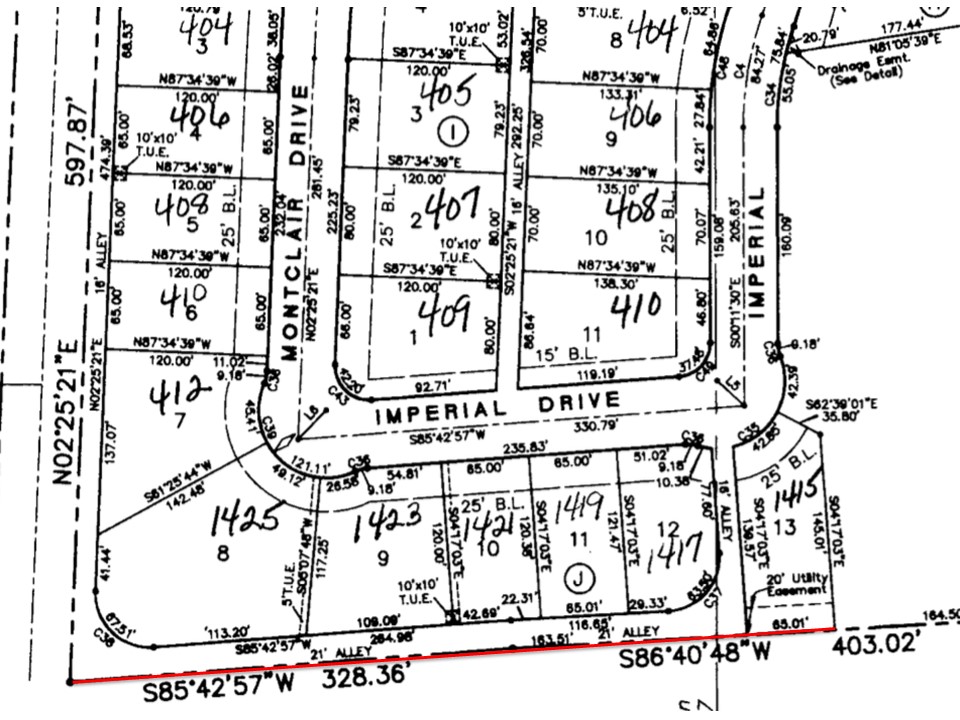 Imperial Drive Homeowners

1425, 1423, 1421, 1419, 1417, 1415 Imperial Drive Homeowners

There is no Watters Crossing HOA Private Common Open Space nor any land in the rear of the above properties that is maintained by the WCHOA. The trees within the treeline are part of each individual homeowner's lot, behind you, in Hamilton Hills. Fallen trees and/ or any resulting damage should be referred to that homeowner. Further details can be obtained in the interactive maps at www.collincad.org
Woodbridge Drive Homeowners

409, 411, 413, 415, 417, 419 Woodbridge Drive Homeowners

There is no Watters Crossing HOA Private Common Open Space nor any land in the rear of the above properties that is maintained by the WCHOA. The trees within the treeline are part of each individual homeowner's lot, behind you, in Hamilton Hills. Fallen trees and/ or any resulting damage should be referred to that homeowner. Further details can be obtained in the interactive maps at www.collincad.org